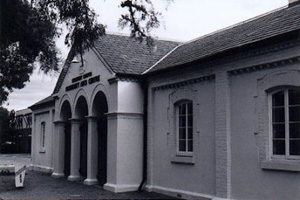 The society was formed to promote the discussion and the study of South Australia and Australian history, in particular the history of the District of Salisbury and to promote the collection, recording and classification of works, source material and artifacts of all kinds relating to the history of the District of Salisbury, and to facilitate access to the collection by all sections of the community in Salisbury.
The Water Wheel Museum is located on Commercial Rd adjacent to the Little Para River and opposite Para Banks eastern entrance
2020 MUSEUM & WATERWHEEL
Opening Hours 
MUSEUM

WATERWHEEL

SPECIAL

FEBRUARY

 

Saturday 15th
 Clean up
 Clean up
 Busy Bee
 Sunday 16th
2-4pm
 2-4pm
 MARCH
 Sunday 1st
 2-4pm
 2-4pm
 Sunday 15
 2-4pm
 APRIL
 Sunday 5th
 12-2pm
Picnic
Sunday 19th
2-4pm
2-4pm
 MAY
Sunday 3rd
 12-2pm
2-4pm
 Sunday 17th
 History Month
 1.30 pm for 2.00 pm start
 History Walk
 JUNE
 Sunday 21st
2-4pm
 2-4pm
 JULY
 Sunday 5th
  2-4pm
  2-4pm
 Sunday 19th
  2-4pm
 AUGUST
 Sunday 2nd
 2-4pm
 2-4pm
 Sunday 16th
 2-4pm
 SEPTEMBER
Sunday 20th
2-4pm
2-4pm
 OCTOBER
 Sunday 18th
 2-4pm
 2-4pm
 NOVEMBER
 Sunday 1st
 2-4pm
 2-4pm
 Sunday 15th
 2-4pm
Note;
The Museum and WaterWheel visits can be arranged at other times. Please contact the President on 0408086545 – Groups (6+) by appointment
School groups always welcome.
Phone President (D. Brown) 0408 086 545
The Salisbury History Museum is closed mid December to February or if the temperature goes over 35C. There is no charge, however a donation would be helpful.
May 17th – open 1.00pm, Town Walk at 2.00pm from Museum. $5.00 Adults (includes afternoon tea).
Join us on Facebook
Interesting Sites: