SALISBURY'S WATER WHEEL
Installed by Mr Kuhlmann around 1911 at his property
surrounding the Old Spot Hotel to fill a reservoir and thus
enable watering of his orange orchard.
The wheel was housed in a pit (still visible) and water was diverted from the\Little Para to fill the buckets from overhead  and in turn drive the wheel.  The Water Wheel stopped working in the 1940s.
It is thought the wheel was constructed by Paternoster
Engineering Works of Salisbury.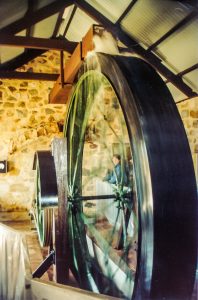 The wheel was removed from its original site in1982 and later restored by the Rotary Club of Salisbury in cooperation with the City of Salisbury and  Salisbury & District Historical Society.
It is now housed in a 1900s styled building made of stone from Block A of Yatala Prison and River Red gum timber. The museum was opened on 21st December 1986 by Sir Mark Oliphant.
Diameter 4.2M, 64 buckets, of 20L capacity and turned at 8rpm.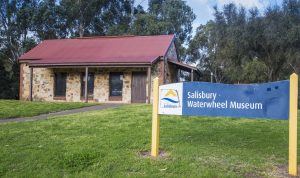 The Water Wheel is  normally open on the 1st and 3rd Sundays of the month from 2-4pm
Special openings for schools and speical groups can be arrange by contacting the President.